THE
TACTICAL
GARDENS
SELECTED WORKS

THE CASE OF MEAT
Valeria Meiller & Agustín Schang
THE DENSITY OF BREATH
Nancy Valladares
THE REVERSAL
Jennifer Boles
Chemical (Re)actions is a project by
the Goethe-Institut Chicago, designed
and curated by Joshi Radin and Alberto Ortega.


THE TACTICAL GARDENS - SELECTED WORKS
Screening March 6 & 7, 2021
*
Register here for artist talk on March 8, 2021 - 6:00 PM CST
THE REVERSAL
By Jennifer Boles, 2020


A haunting animation of an institutional glass-plate photo archive documenting the reverse-engineering of the Chicago River and the invisible histories and legacies of our capital-driven landscapes
.
THE CASE OF MEAT

Valeria Meiller & Agustín Schang, 2020

The Case of Meat explores manifold stories behind the meat industry in Argentina. Taking off from the personal narrative of Tata Moya, an ex-worker at a slaughtering facility in the Argentine pampas, this film opens the curtain on an industry socially designed to remain out of sight. Working against the common assumption of the slaughterhouse as a space designed to confine and conceal the violent encounter between butchers and cattle, the video delves into the complex cultural tales of a country known worldwide for its meat production and steak culture. What if meat isn't separated from cattle? What if humans and animals are part of the same overarching narrative? By looking at disparate stories surrounding cattle and meat, The Case of Meat speculates about modes of kinship with other species, their role as co-workers and co-habitants of our world, and the making of a common history.
THE DENSITY OF BREATH
Nancy Valladares, 2020

Shot with an electronic microscope, The Density of Breath is a meditation on vegetal agency, plant exchanges and botanical representation. Millions of years after seeds learned to move in the currents of the ocean and the wind, to float on water and air, to become the first stowaways and hitchhikers, human colonial networks of exchange were strengthened as maritime travel developed. In pursuit of plant matter and the expansion of the human visual apparatus, technologies of plant transportation and representation marked a pivotal ecological and cognitive shift in various geographies around the globe. Self-titled naturalists and explorers like Alexander Von Humboldt became the de-facto authors of western botanical history. And yet, we know that history can be traced through other paths, agencies and lenses. What do seeds know about the flavor of the atmosphere; about the texture of the air and its currents, about its ebbs and flows?
People for Community Recovery,
a virtual tour of Altgeld Gardens by Cheryl Johnson
Altgeld Gardens, People for Community Recovery, Cheryl Johnson, October 9, 2020
Cheryl Johnson continues the work of her mother, Hazel Johnson, for environmental justice in the Altgeld Garden public housing complex on the South Side of Chicago. After the premature death of Cheryl's father due to cancer, Hazel Johnson suspected environmental causes played a role. People for Community Recovery, one of the earliest environmental justice organizations in the United States, initially organized around issues of PCB contamination in the housing complex, but quickly grew to tackle widespread pollution issuing from industries that had used the southeast side of Chicago as an informal dumping ground since the 1860's. Centered in a vortex of sewage treatment plants, dozens of formerly unregulated and municipal dumps, sites contaminated by historic and ongoing heavy industry, PCR usually conducts toxic tours to educate the public about the disproportionate burden of hazardous waste they bear. Since the onset of Covid-19, all public tours have stopped due to safety concerns.

What follows is an edited transcript of some of the sites typically visited on a toxic tour with PCR as narrated by Cheryl Johnson. Headings indicate sites of significance either as success stories, sites of interest or sites of ongoing campaigns. The text has been edited for clarity and length.


MARYLAND MANOR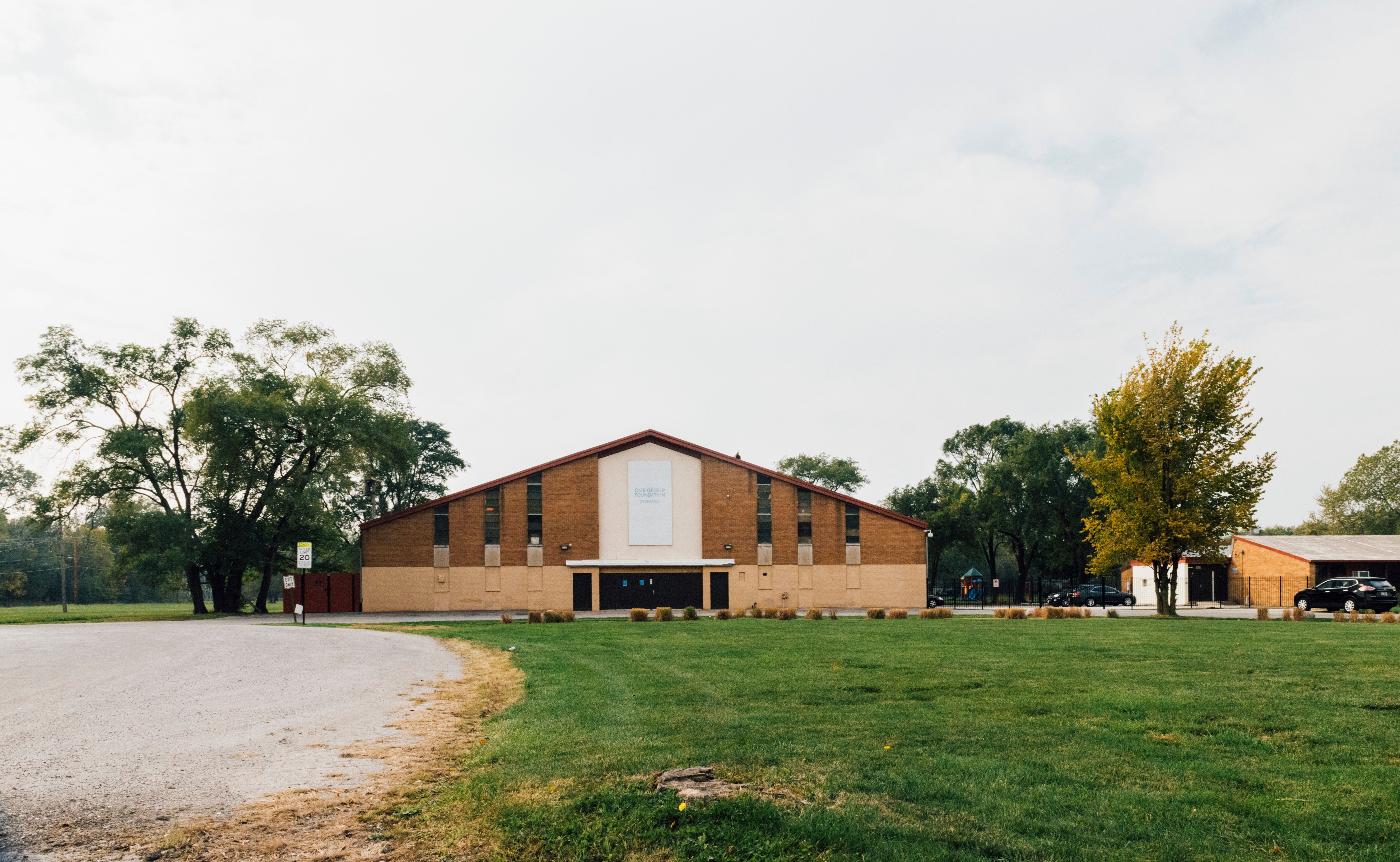 Cheryl Johnson: All right. Well, this is Altgeld for one. The first place we're going to visit is one of our first victory areas. It's called Maryland Manor. And it's right outside of Altgeld. Altgeld sits on 190 acres of land and used to have nearly 2000 housing units. But we lost some of the units in the renovation. So now we only got 1500—a little bit more than 1500 units. I don't know what the exact count is anymore. I used to know it.* This right here used to be Our Lady of the Gardens Catholic Church. And this was a school. And this is the area where Obama used to come out and work in the community. He was working under the Catholic Church here. And then they sold it—now it's a charter school. Now right in front of us is our homeowner's Golden Gates, and we'll take a brief tour of that.




But the first place we're going into is Maryland Manor Homes which is right off the Little Calumet River. In this area, Maryland Manor used to be maybe 15 homeowners and for 25 years, they paid for water and a sewer line that they never had. It was highly contaminated, and that was during the Harold Washington administration. This was one of our first environmental victories—we helped them to go off well water to get connected to city water because their well water was highly contaminated with at least 6 or 7 different contaminants.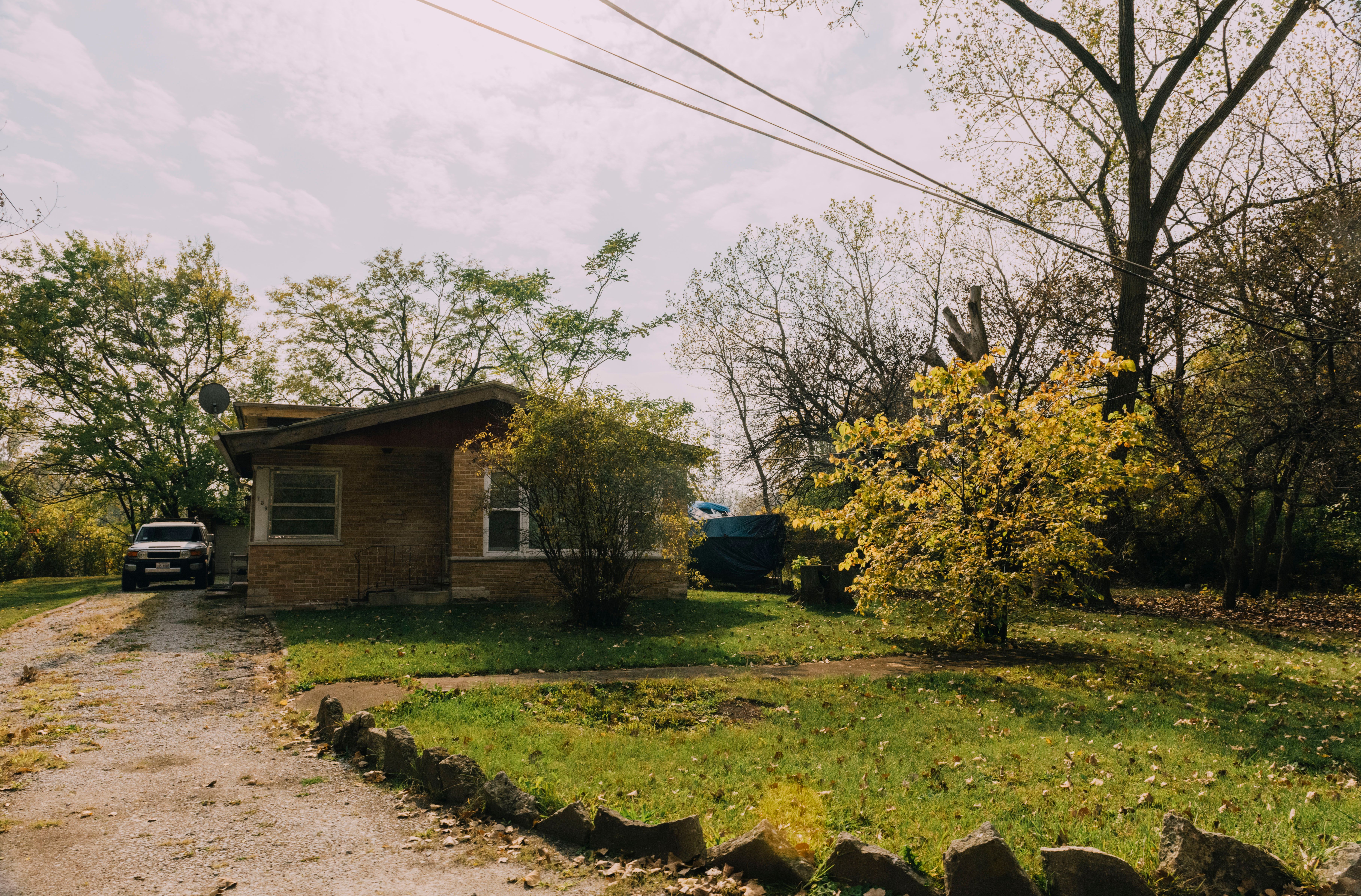 *Altgeld / Murray features 1,971 studio, one, two, three, and four bedroom homes, according to the Chicago Housing Authority's website.
TON FARM & THE UNDERGROUND RAILROAD
This is also in the area of the Jan and Aagje Ton Farm for the Underground Railroad. They're trying to make this area a historical area because of the connection to the Little Calumet River. As you see, a lot of people come out here and just plow the land and grow vegetables in this area. Most of the vacant land and abandoned homes might be owned by the city due to back taxes. Its appearance makes you feel like this is a rural area in Chicago. We still have people living in the few homes that are back here and they love the serenity of the area and being close to the river.
There goes a coyote y'all see that? Ain't this beautiful? We got deer, raccoons, coyotes, possums, all in our neighborhood. These animals come out three or four o'clock in the morning. And they like, 'Hey, this is our time of the night and we out. The saddest thing about this area is the fly dumping that occurs frequently in this area, dumping of abandoned cars, construction materials and furniture destroy the beauty of this area.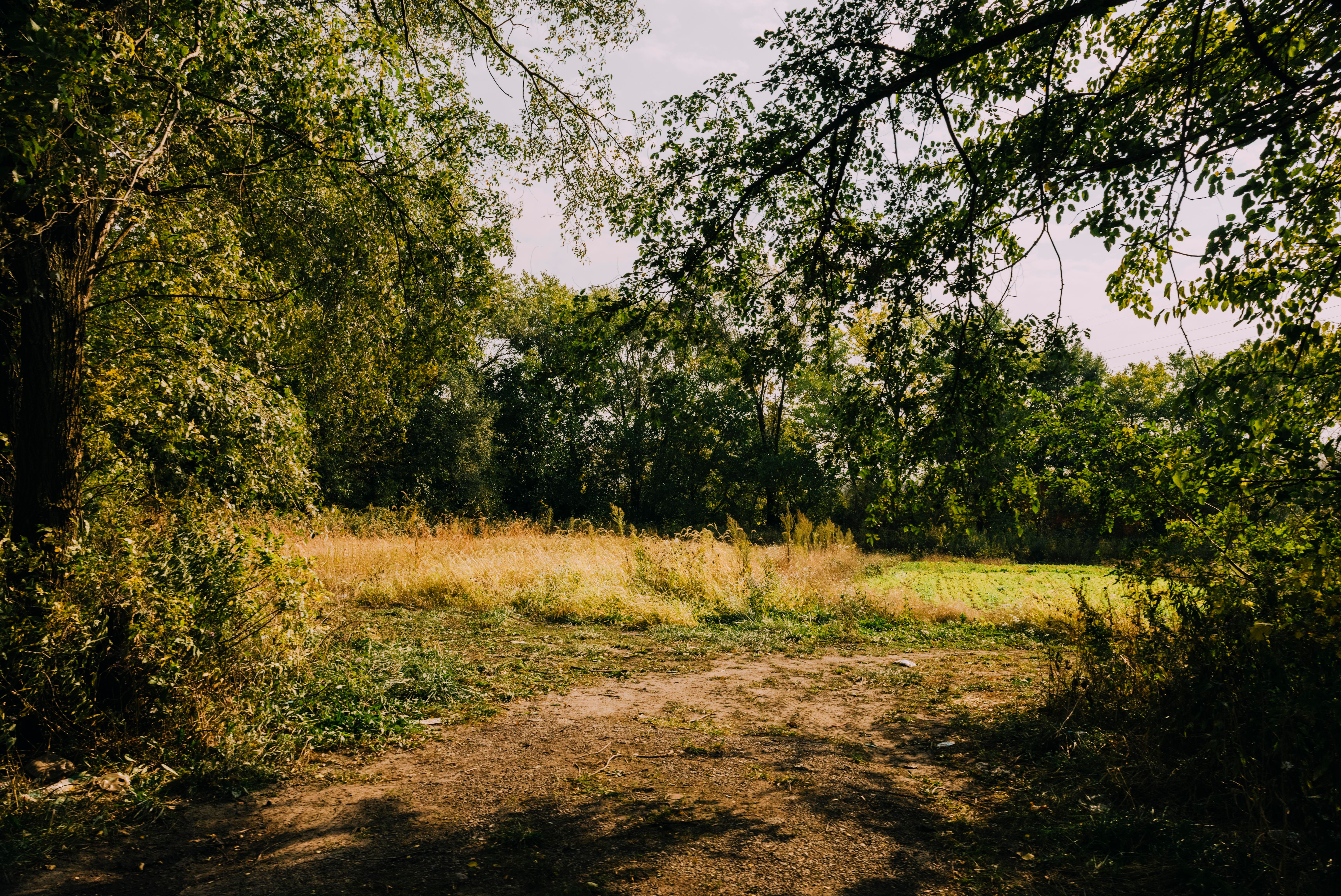 One of the historical drainage ditches is still there. You could see the tunnel that is still there from that operation. Yeah. You know, with the steel mill and the Pullman community, you know, and what was interesting about George M. Pullman? You know, he provided most of the housing for the steel mill, and the steel mill was his operation. But he also tried to create his own money! That was interesting. The government came and shut that down back then. He had the monopoly on this area, so it's interesting to know that's part of the history that I learned about George M. Pullman that stuck with me.
FORMER CARVER HIGH SCHOOL
Everything here got its name after George Washington Carver and it's interesting to know that he was an environmental scientist. He developed and created different products we use today like peanuts, corn and all kinds of food products and it's so interesting to know we honored his legacy by naming our schools and park after him. Near Maryland Manor Homes is the first high school for our community, George Washington Carver High School. This is the very first high school that was built in Altgeld and it became a charter school that is now closed, a viable vacant school that was renovated now it sits empty of school activities. Next to our former high school is another school, used to be called Isaac Newton, named after another famous scientist. It has been renamed to George Washington Carver School Campus that has students from preschool age to 8th grade. Across the street is part of this campus but I grew up knowing this school to be called George Washington Carver Primary School. As you can see further down there is a vacant school building known as the "C" Building and it was the first school building that was built in Altgeld in the 1940's. It went from kindergarten to high school, until they built all the other school buildings in this area. Next to the C Building is the D building then the A building and the B building right there in the blue where classes were held. On the same ground of our school building is our park district, Carver Park and it has an enclosed swimming pool with a retractable roof, but it's locked up. We are one of the only two park districts in the city of Chicago that had a retractable roof and that was ours—the other one is somewhere else. I learned how to swim in this pool at six years old and I still swim there.
As we leave the school campus going eastbound, this area used to be apartments and it was called Phillip Murray Homes and it was torn down several years ago. In this area we are hoping that the Park District will build outdoor recreation—a track and field, and tennis court right here. We are going to turn this corner right here going westbound and in this area it used to house three blocks of apartments, Block 11, Block 12 and Block 13 that were torn down three years ago. Half of this area is where Chicago Transit Authority (CTA) wants to extend its rail line to 130th Street. CTA has developed a plan called the Redline Extension to 130th Street that would extend its rails from 95th Street station to our community.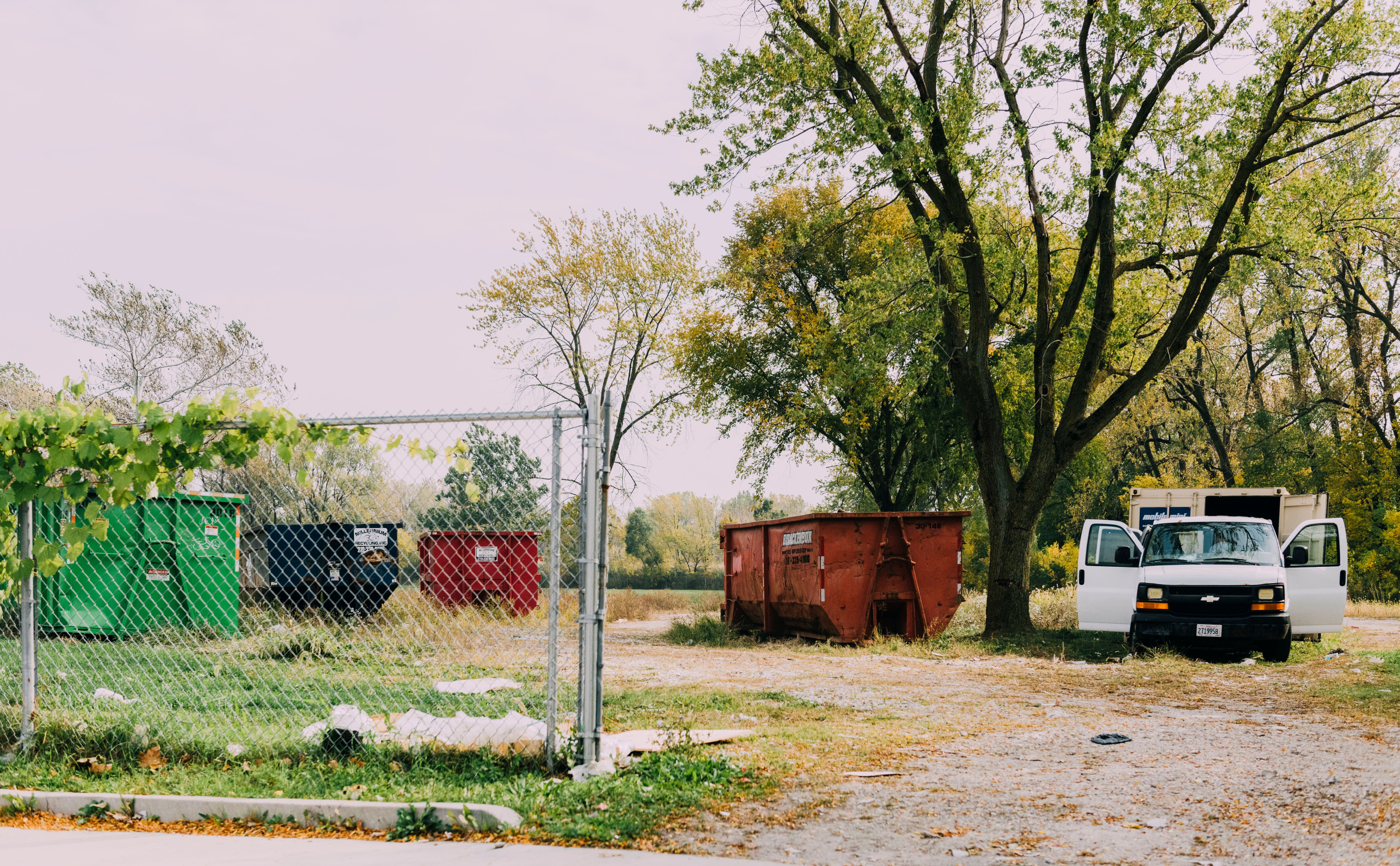 BEAUBIEN WOODS / LAND & LAKES LANDFILL

Here, we're going into our forest preserve, Beaubien Woods and this is where our area high school is located, Carver Area military school. This school was built to ease the overcrowding in our old high school in Altgeld. There are some concerns that this school is sinking because it was developed on swampland. Before we get to the school, right here is where the kids were learning every summer how to farm a garden. CHA hired Erika Allen of Urban Growers. She used to teach the kids but it hasn't happened this year or last year, and not because of Covid, either.


Oh, they paved the street. Lord! Thank you. Well, a lot of redevelopment is gonna happen because I know they plan, but Covid put a lot of stuff on a hold. They're gonna revitalize this area because this is where they launch the boats in the Little Calumet River. They were supposed to put picnic tables—they put in the parking lot already.


And they're supposed to put picnic tables and everything, so we could really do the outdoors out here. But the main attraction, the reason why I come over here is because this is the Land & Lakes Landfill, that's right off the Little Calumet River here. So if you want to get out and look at the water…


They took the boat slips out. Used to be one, right here. They only left two for the launches. Okay, so they just left two. All the landfills in the city of Chicago—that is really Dolton, but it borders the city line. So in the state of Illinois you cannot build or expand on any landfill in any county that has over a million people. Cook County has over a million people. So that's why this landfill is still closed. And in the city of Chicago, we also have a moratorium on any expansion or new development of landfills in this area.


She tried to repurpose her landfill. I know she was interested in putting up solar on her on the landfill and she was also talking about doing urban gardening on her landfill. So I don't know. I haven't heard any plans, but she definitely was trying to repurpose that land.


Now, up here every summer, the Cook County police come out here to train their dogs. So you could come out here and see them on Sundays, training their dogs.


They still fish, and we're going to go to Flatfoot Lake because that's an alternative from fishing in the Little Calumet River. Actually, this was part of Lake Michigan. They filled it in.

CARVER HIGH SCHOOL

This is our area high school here, Carver High School, Carver Military Academy. So, you know, this school was built in the forest preserve. It's a public school, but it's a selected enrollment school, it's military. So it's no longer our neighborhood high school, which I think is a travesty because our kids gotta take two buses and walk two blocks to get to their neighborhood high school in the Roseland area.

CID LANDFILL

When you look over here, this is one of the first regulated landfills in the city of Chicago, and it's called the CID Landfill right here. We have 50 documented landfills in our area. But this was one of the first regulated landfills back in 1969. Most of the landfills in this area wasn't regulated because they were built back in the early 20's. During that time our way of disposal was in Lake Michigan. So when they filled the lake up, they built these landfills whereas anything can go into these landfills. All kinds of hazardous materials, just mixed wastes. Now you have municipal landfills that take household garbage. Then you have hazardous landfills, which takes a lot of the industrial waste. That's what makes a difference, and this one here is a municipal landfill. We are going to the other side of this land—you noticed pipes which are gas pipes that recover methane from the landfill. The land on the other side is owned by Waste Management. So as you could see this is the back of the landfill, you see a lot of the pipes that are coming out— that's because they recovered a lot of the methane gas. This is the only landfill in this area that has a leachate collection system. The one we left, Land & Lakes landfill? They don't have a leachate collection system, but this one does. That means it has more protection from the underground. It's like an underground barrier, it won't contaminate the groundwater. We're going toward the entrance of one of our second major environmental victories in this area.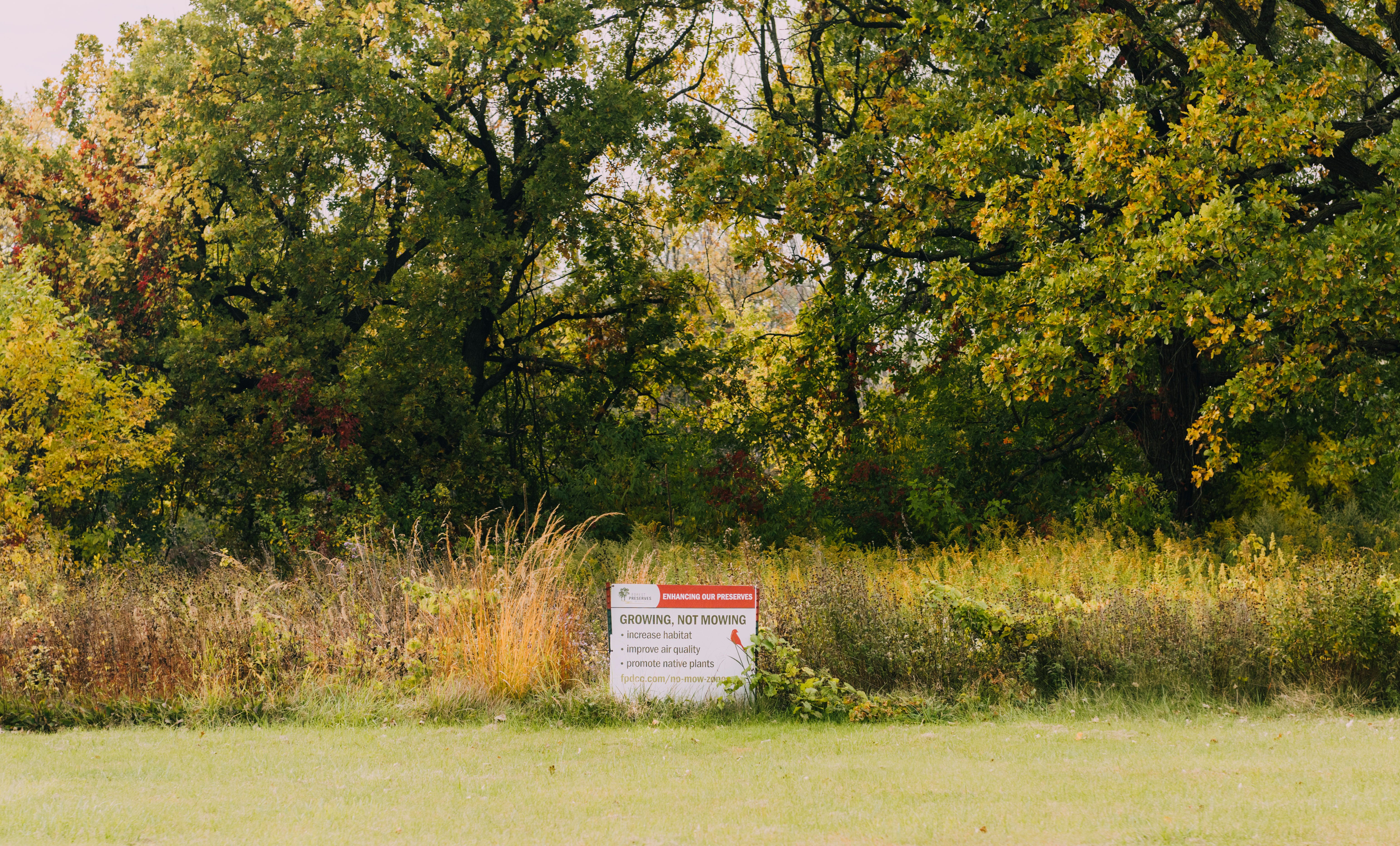 We're going towards the entrance of the CID landfill that's owned by Waste Management Company. And at the entrance of this landfill—it was a coalition of organizations on the south and southeast called CURE (Citizens United to Reclaim the Environment) and what we was able to do was block the entrance of this facility and turned around 57 dump cars in four hours. We had the news present because we said, 'No More Dumps, No More Landfills' in our community. After the media left, it was 17 people from CURE and my mother who were arrested and barred from coming onto CID Landfill's property. My mom was one of the founding members of CURE because it was all the neighborhoods that represent residents from 130 to 95th Street. At this entrance is where they blocked right up in here. After they were released from jail, CURE went on the opposite of this land to continue protesting this landfill and to make the public aware of this facility. Waste Management was trying to expand this landfill and we was fighting the expansion of it. We're going to get off at 130th east.



Waste Management had to maintain it for the life of the landfill. They were proposing to make that a recreational park, where they wanted to give the neighborhood in our area $20 million for the acceptance of making this a park, and the communities said no, because of the hazardous waste. I'm gonna take you to the back of the landfill so you could actually see it. We are at the front part of this land and we were told it operated as a municipal landfill. A lot of the waste buried in this landfill produces methane gas and it is converted into electricity for the facility power and sale as we were told in the past. It is called Waste Management Transfer Station, and we are going to visit there next. Whatever they don't capture, they burn off the excess of it and I guess this landfill still decomposes and produces the methane gas for this facility.

FLATFOOT LAKE

Here, if you wanna get out, it's beautiful back here—it's Flatfoot Lake. This is a manmade lake that was built as an alternative to fishing in Little Calumet River. Every year the state loads different types of fish for public recreation, but you must be licensed by the city to fish, and people do come and enjoy this area. We, PCR, advocated for this area as an alternative fishing area and the county started hosting festivals. They do a lot of kayaking here and educating the community about forestry activities. People from my community used to swim in this water when it was underdeveloped back in the 60's and 70's, and a couple of people that I grew up with drowned trying to swim across this body of water.


Also, there are no fountains in this area because it has been documented that the leachate from CID landfill seeped over here into the water, and the water fountains tested positive for contamination. Elected officials knew that it would be impossible to ever clear the water foundation for the public to drink, so they just dismantled all the foundation and we never had a public restroom in our forest preserve. Since Flatfoot Lake was developed this is the only public restroom in the forest preserve and you see what it is (a port-a-potty).

O'BRIEN LOCKS AND DAM

Right here is O'Brien Locks and Dam. This is where it opens up gates when we have floods in this area. So, there are really two issues in this area. And if it were not for the moratorium that we have in the state, we would always have to monitor this land over here from becoming another landfill right here, right in front of us.



A few hundred feet west of this site is where Chicago wanted to put the high-tech firing range. And when the Water Reclamation District voted to give them the land to the city, we felt defeated. We all came back out here after we left the District's headquarters and looked at the land where they wanted to build it. One of the members that was with us, she was from the Audubon Society and pulled out her binoculars and she detected an eagle nest and that is what saved this site because eagles are a protected species in the state of Illinois, and this stopped the city from building this high-tech facility.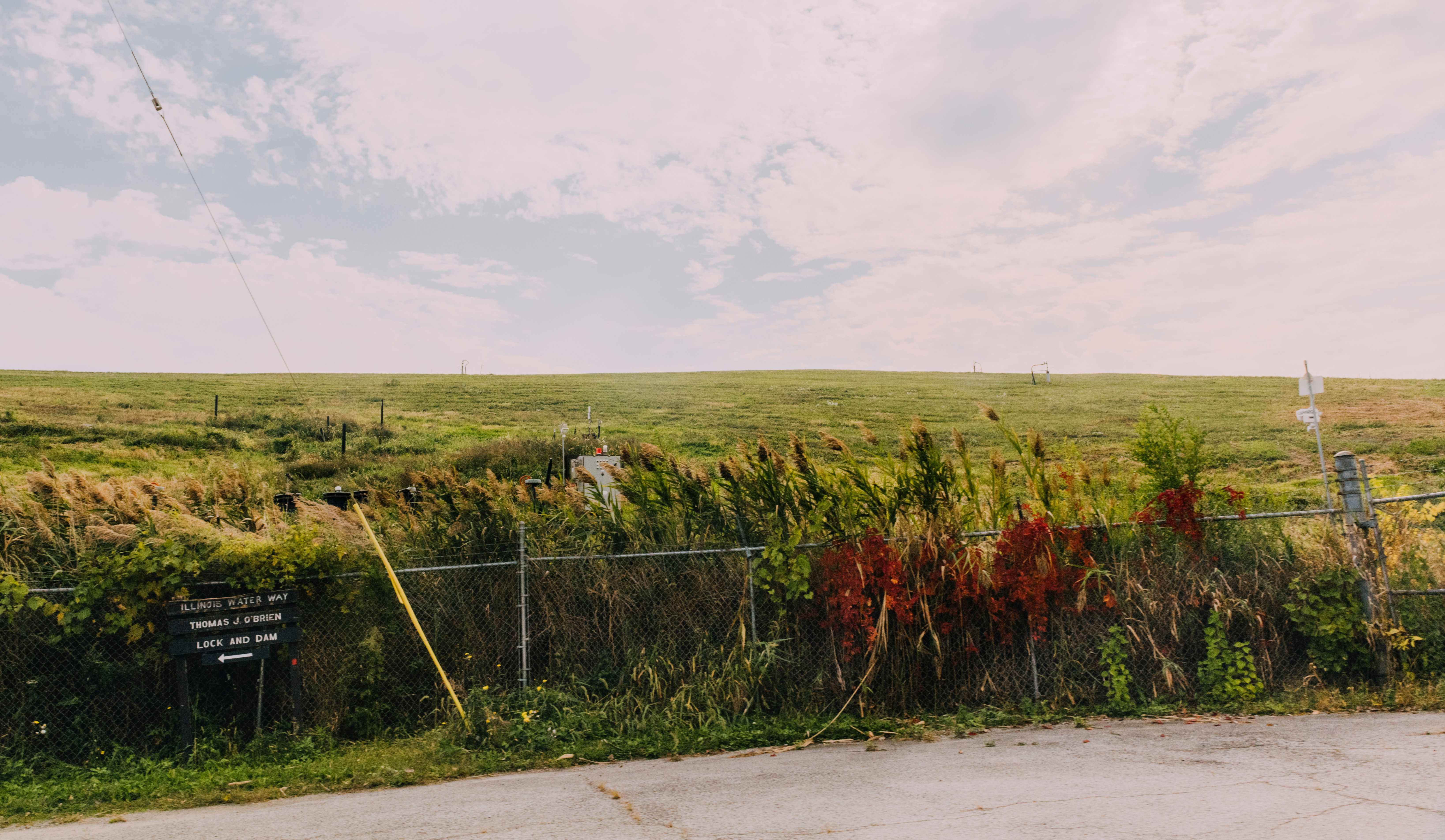 I said, God works in all kinds of ways! Next to the lock and dam is a site that we have to watch at all times, and if we didn't have the moratorium on landfilling on the state and the city level, we would have to fight to keep this area from becoming a landfill right here. The Water Reclamation District owns this land too, along with the land where the city wanted to build the firing range.


Now we are on our way toward the Lake Calumet Industrial District. On the right here is a scrapyard. It is just interesting to see that most of the scrapyards are located off our waterway because a lot of their processes use a lot of the water and we sometimes have to protest these companies when we feel that they have too much scrap materials in this area. This facility here has been in this location for at least the last 40 years and changed companies many times.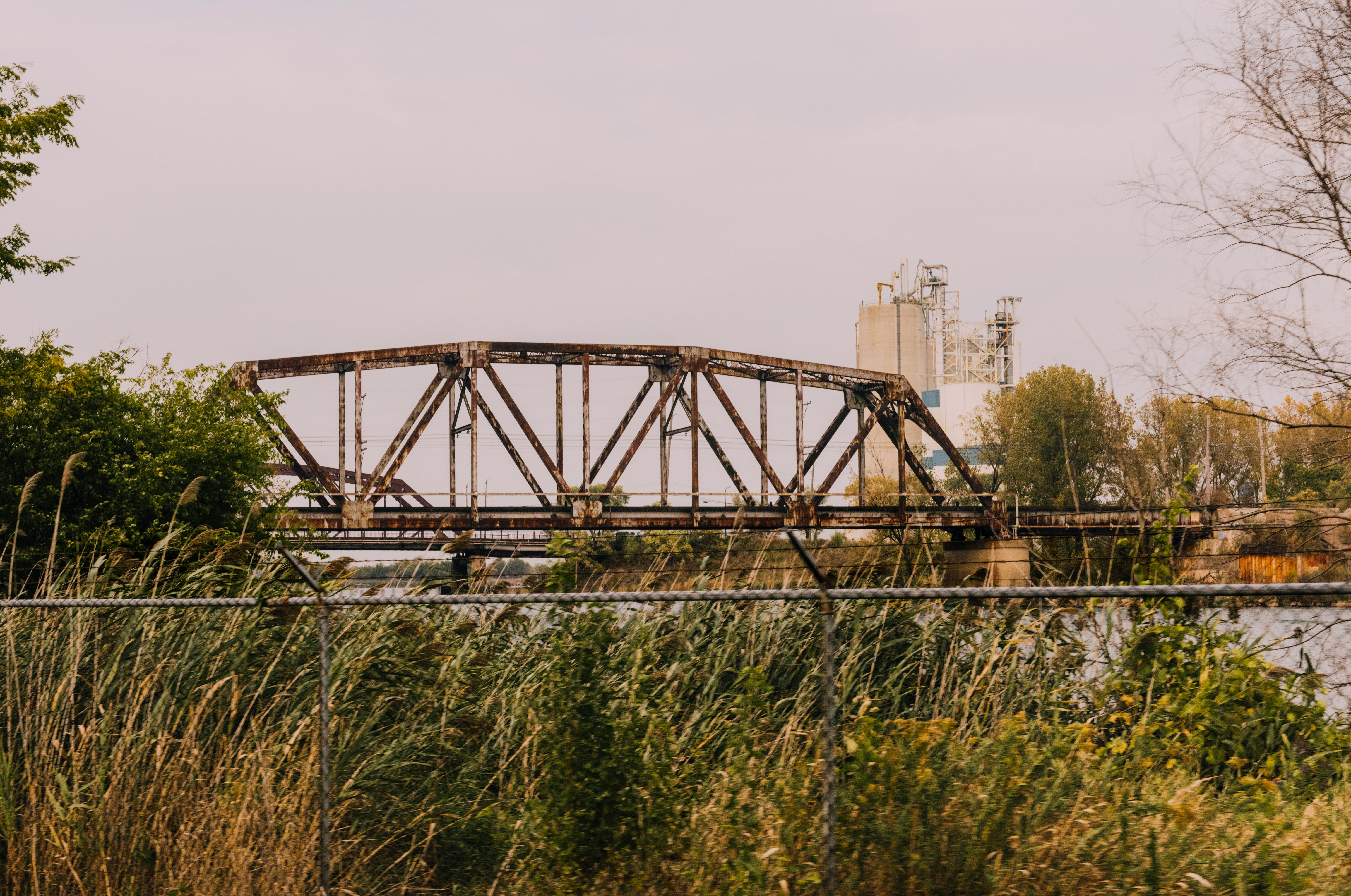 One of the biggest polluters in our area now is the Water Reclamation District of Greater Chicago, it is a sewage treatment facility, and also Ford Motor Company, right here.

FORD MOTOR COMPANY

We're going to the Ford Motor Company and their supplier campus. Ford Motor is one of two biggest polluters in our community. A lot of the particulate matter comes from this facility, not to mention vehicular emissions from the trucks, cars and the diesel pollution. Ford Motor has been in this location as long as I can remember, since when I was a little girl. The odors from this facility was so bad in the 70's and 80's CURE demanded to meet with Ford's representative to discuss ways to reduce or use alternative chemicals in their operation. We formed the Ford's Good Neighbors Dialogue where we met with them about their chemical processes.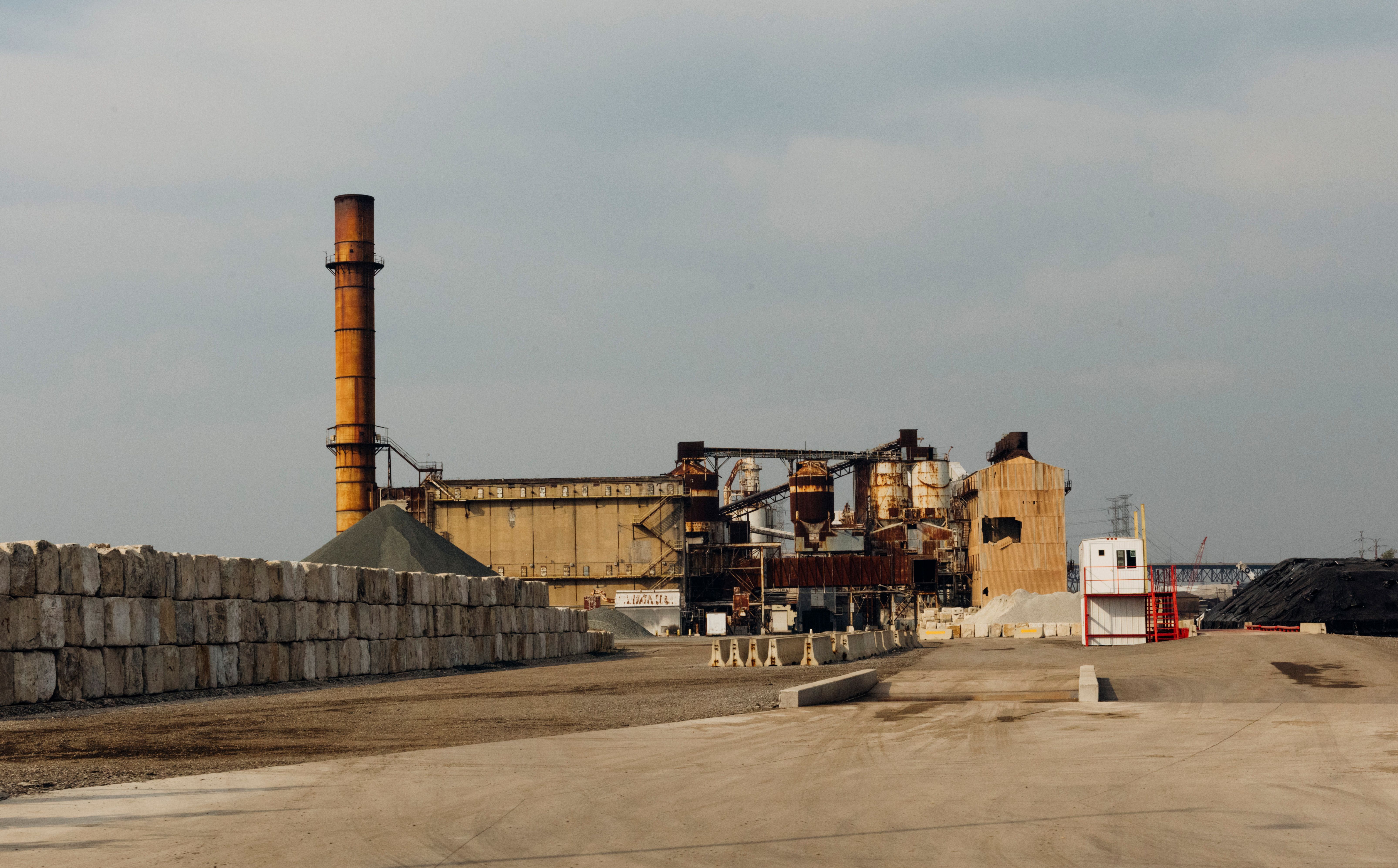 All this is new. Ford's Suppliers Campus was created under Daley's administration and this development is less than 25 years old. Before this development, trains going into Ford used to hold up traffic for an awfully long time, maybe for an hour or more. Ford's development plan for its Supplier Campus was awarded $40 million from the city and $60 million from the state of Illinois to build an underpass along Torrance Avenue and 130th Street. In return Ford promised to give $4 million to build an environmental center. It was an investment of $100 million by our city and state. So now the trains just go up, and now we don't have a problem of holding up traffic. An access road at 126th at Torrence was built to have access to Ford's Supplier Campus. Before this, there were no roads to go further east to Avenue O from 126th Street.

LAKE CALUMET INDUSTRIAL DISTRICT

This area is why we say we have multimedia exposure: air, water and land. This area is called the Lake Calumet PMD, Planned Manufacturing District and was created when Harold Washington was in office, in the 80's. Toxic industries were already here, but it allowed for easy application and easy access to come down to this area. And that's why General Iron is able to develop and come down into this area.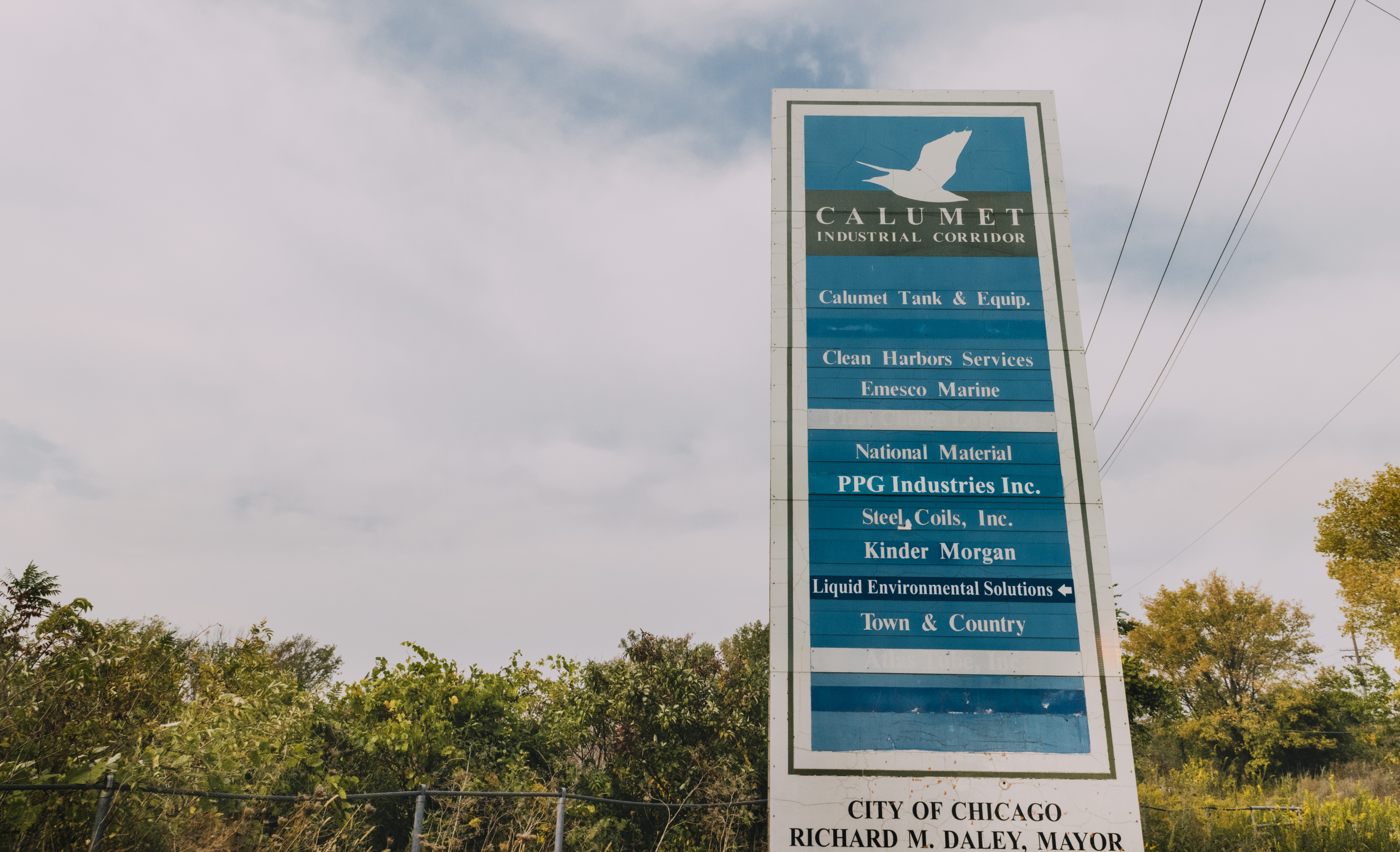 HEGEWISCH BASEBALL FIELD

This is the baseball field that has been contaminated with lead and it was cleaned up last summer. The EPA did its own testing and used resources they had to clean it up on their own. I don't think they had no owner that was associated with it.

SLAG LANDFILL

Further down you see a lot of the slag that we've been trying to get the city or the state to clean up because of this development. There were some plans from Ford to expand its suppliers into this area. Ford has already relocated 14 of their Tiers 1, 2, and 3 into this area and its goals were to relocate 99 of its suppliers into this area. This all changed when the car market crashed years ago, and this plan was stopped. So, we are left with all this slag blowing everywhere.







This whole Ford development was to serve as the economic engine for our area, but it never seems local businesses develop, or existing business expanded from this development. It is interesting to note that President Obama bailed out the auto industry and Ford Motor was the only automaker that did not accept this bailout.



One issue we fought Ford hard on was the way they hired people. It was known to our community that most of its employees come from the state of Indiana and we did not want to see our tax dollars support employees from Indiana. Most interesting was the fact that Ford only hired from one employment office that is located in Harvey Illinois, and we forced Ford to conduct hiring from six zip codes within the vicinity of its facility. Unfortunately, we were unable to monitor this process to determine if they did hire from those other employment offices!

AVENUE O

That's Wolf lake up here. I could show you where General Iron is building their facility. Usually the Southeast Environmental Task Force conducts tours in this area and our tours are usually east of Avenue O. We let the SETF do their tours along this street but this one time I will take you to the area where General Iron is building. This is a whole new development here. This is the area where General Iron's gonna be on the left. As you see they are in preparation to develop this site. This is the Zone right here, they have a huge youth organization where they help fight this development. But the Southeast Environmental Task Force and the Coalition to Ban Petcoke are really the principal organizers in fighting General Iron's transfer down to this area.



This area used to be the home to steel mills that were operating but closed in the late 70's. When bad industries are being planned in our community, the community would be the last to know what development is coming to the community, which is a shame. We should have a right to know before any types of permit applications are being considered.



When these types of developments come to your community, it brings down the market value of your home. So this is the South Deering area. Once we get up to 106th we'll go back west, to the industrial area. We're gonna pass by where the petcoke was located too, since we're down in this area.



Now we're coming up to where some of the petcoke was that Southeast Environmental Task Force and the Coalition to Ban Petcoke fought and now it's a recycling center. A lot of this was cleaned up—a lot of that slag that we saw over there by the Ford Motor Company, it was triple times that amount in this area. But as you could see, they had cleaned up this area, they got rid of a lot of it because it was just that close to residential and it was blowing into the lake. It was a success because the city and state put a lot of technical requirements and safety precautions that they had to implement. There were a lot of requirements and pollution control equipment the company was required to install at this facility. So it was not cost-effective for the company, and they decided to relocate the slag materials. But we never know what other industry is going to try to come back in this area. You see, they turned into a recycling center and it does not look safe.

FORMER ACME COKE PLANT

We're gonna come down to where a lot of steel mill operations used to be, but I'm gonna show you the historical Pullman coke oven where they operated a big old coke oven in this area. And it's so highly contaminated nobody is interested in that land because it's so highly contaminated. It's all kinds of metals up in there, from chromium to cadmium, lead. I think arsenic—all kind of stuff over there because it was making steel pipes from the coke ovens. This is it right here, this is where they had the coke oven. It was the Pullman Coke oven steel mill in this thing right here. As you can see, the tower is still there and some of its smokestacks. But what's interesting is the houses that are right there by it. Across the street is a new facility that houses electrical transformers. Look how far the coke oven facility went, and right next door are homes and people still living in these houses that were there when this facility was in operation.







INDIAN MARSH & PAXTON LAGOONS

And this is the Indian Marsh that we've been trying to protect from redevelopment. We assume that it is contaminated because the Paxton Lagoons were highly contaminated. And we're still waiting for the state of Illinois to clean it up. They put a mobile incinerator there, but it clogged up the incinerator. It took more money to unclog the incinerator than to actually continue to clean it up. This is the Paxton Lagoons right here. There are four lagoons. There are two lagoons on both sides of this road. There was so much illegal dumping happening in these lagoons, there was only two things they were able to identify that was in the lagoon—it was some miniature pigs and some baby sharks that were pickled in formaldehyde, that were in containers. Those were the only two items that were identified in the lagoons. You could still see the bodies. They think it from some medical school or someone that just dumped it in there.


The state of Illinois volunteered to clean up these lagoons. But just like I said, it had so much unknown materials that they was burning and couldn't identify which caused the incinerator to clog up. It cost more money to unclog the incinerator than to actually continue cleaning up the lagoons.

PAXTON LANDFILL

Now, this is Paxton Landfill that we're coming up to. In this area the Water Reclamation District owns a lot of this land, but this Paxton Landfill right here was an illegal operating landfill. Now how did that happen? I do not know. But the configuration for this landfill was not correct and using the wrong configuration was threatening this landfill to fall. So now the state runs this landfill and monitors it. They don't do anymore dumping in the landfill. But as you could see, it's not in formation like the two other landfills that you've already seen. Both sides of this area is where the 50 documented landfills were, and they cleaned them up, leveled them. You could see this is not even right, this landfill is not sloping at the angle that it is supposed to be. So the state monitors this landfill for life.

CHEMICAL WASTE MANAGEMENT PCBs INCINERATOR


We're coming up to Chemical Waste Management that used to operate a PCB incinerator and burn any PCBs from around the country. This was the facility. They had a bunch of explosions and we fought this facility for its several violations which resulted in a settlement. CWM agreed to hire an independent engineering firm to monitor its operations, and hired residents as monitors who were given 24 hour a day access to the facility. CMW violated the agreement when the engineer firm and resident monitor found additional bookkeeping violations and another explosion which caused this facility to close down and the incinerator was dismantled.

BIG MARSH

And this is where Big Marsh is. This is where they're building an environmental center. They're supposed to make a BMX dirt bike facility in this area, and this is $6 million that Ford Motor Company committed back when it was building their supplier campus. After twenty years it is just now building this environmental center and it will be named Ford Calumet Environmental Center, because Ford put up the money. Well, hell, if you give me 100 million, I don't mind giving you six million back. You know what I mean?



So you can see people out here with their dirt bikes. They're not completed, the Ford center is almost completed. They got bikes here you could ride on, and you could go down this way and ride your bike. But they're not finished, though I wonder why.


You come over here, you know, seven o'clock in the morning, you will see a lot of deer just chilling in this area. And I didn't know they was that big until they came up to my car! There's so many animals native to this area. But as you could see, kids come out here and ride their bikes.



This area is being redeveloped. I think it's right there where you can see Lake Michigan. Illegal dumping is still a big problem. Two summers ago you could see a car just submerged in the water. Somebody dumped their car down there, and it was submerged in the water. I heard the other day that the city has plans to clean this area up. At one point people were able to go fishing in this area but now it's not accessible with boards to prevent entrance. I know there are lots of car submerged in this lake and I will be leery of fishing here because of all the solvents and oils that are in those cars.

HARBORSIDE INTERNATIONAL GOLF COURSE


This is the beginning of the International Port Authority Golf Course. They took the majority of these old and unregulated landfills in this area and made a golf course, and that was one of the most popular things that they was doing back in the early 90's. I think over there in Blue Island was the first landfill in our state that was converted to a golf course. Then this one came. Michael Jordan used to come in and close down the whole golf course for his tournaments and stuff like that when he was here. But these are abandoned unregulated landfills, and they're still part of the Big Marsh. They're doing a lot of cleanup back this way. The golf course is seen as inaccessible because I think they said—I don't understand golf—but they say it was like $110 per hole or something, or whatever they said, it's too expensive. It's beautiful—it's just amazing how they could take the landfill and convert it to a golf course that the community nearby can't afford. You know, it's really nice place and the food is excellent.



And this is the entrance to the golf course. So now mind you, all this is landfills. The grass is beautiful. In fact, I think they still got the sign up that they was gonna build the world's largest outdoor vegetable garden all on this contamination. So, as you can see, all these are landfills. And you can see the scenery of Lake Michigan. You wouldn't know it was built on top of the landfills if I didn't tell you. Yeah. Look as you can see, people out here golfing today. This area is being considered for redevelopment for outdoor entertainment and to walk or ride a bike straight down to the Big Marsh. These plans are being courted to the communities in the area.

CITY AUTO POUND

Right here at this corner is where the City of Chicago used to operate three incinerators. They took the sign down because they didn't want the public to know that the city used to operate incineration on this land. Somebody in the city of Chicago changed it to the Big Marsh. You can tell they changed the name, but the original frame has not changed. But this is where they used to operate three municipal incinerators, and the pollution contaminated the whole south side. We fought and got the city to close down those three incinerators.



Now the city operates it and it stores cars that were impounded. But that created another issue because of the solvents and the oil and the gas that is leaking from many of the cars that are impounded over here. This is the entrance to the facility where you can go and get your car.



Now, this frontage road, it is named Doty Road. It was just gravel. But since they built that golf course, the other side is gravel, but this side of the street is paved pretty well. This is the sign I was telling you about right here. You see, it said, 'The world's largest food center.' And that was like that way before PCR even got started. So that was in the late 60's, that they was gonna build the world's largest food center over here on abandoned landfills. It was gonna be gardens and everything.



As we go farther south, you're gonna see the difference in the maintenance and the landscape of this port authority. And then somewhere on the port authority today it wants to develop a solar farm, also. All the development is happening from 103rd to 115th street. But it does not come in our area and that's what we're fighting for—inclusion.

SHERWIN-WILLIAMS PAINT COMPANY/PMC SPECIALTIES

And right here is where the Sherwin-Williams Paint company factory used to be back here on that land, and basically, they sold their operation that housed a retention pond. Sherwin Williams would rather pay the fines that were associated with the violations of this retention pond than to actually clean up the retention pond. They decided to sell the operation to PMC Specialties Group and PMC Specialties and it was a company that made preservatives for our food. So basically, the same way they made paint was the same process they used to make preservatives for our food. They had a spill over there with sodium trioxide. The community had to evacuate, so they went to court to sue each other. The final agreement with the court said, you are both responsible for the cleanup. So they both cleaned it up and PMC Specialties left.



There you can see the grains for a lot of the flour and rice and all that stuff comes into this area. Many people from my community work at the dock of the port and I forget how much they made, but they throw one hundred pounds bags onto the trucks that come off these ships. Further south from this site is our local fire station but if there were an emergency response from a leak or spill from industries, the emergency response comes from the fire station way on the west side of Chicago.



Lastly on this route is this steel mill processing. I learned that they process the steel. I didn't know that one place builds it another one processes it to make it solid. And this name has changed so many times.

WATER RECLAMATION DISTRICT OF GREATER CHICAGO


The 130th is a mini state highway street and we got it dedicated to my mother, the Hazel Johnson EJ Way and it at the beginning of the Water Reclamation District of Greater Chicago, known as the Calumet sewage treatment facility. On the west and east sides of this facility are where their sludge beds are located and in the middle are facilities that treat the water along with buildings including a laboratory and offices. The District is their own government. They are their own police, they're their own regulator, their own enforcer. And you know what supports it? You know, most of the industry discharges to the District and residential discharges coming to this Calumet Plant. Waste management practices in the past used our waterway and land in this area to dispose waste. The District is a multibillion dollar industry. I'm gonna take you to the entrance and the guards might let us in...




This facility is the worst polluter directly across the street from my community because these sludge beds emit tonnage of pollutants from the drying process of raw sludge. The summertime is our worst on a rainy day for example. Those volatile compounds get weighed down to the surface when it rains, and this smell can be unbearable! Across the street we demanded that the District put an air monitor system to detect its smells and measure levels of this smell from their facility and to release this data to the community. In the past, we used to do tours over here with 8th graders, but when 9/11 happened the District—I think they started back, but we haven't. And we used to take our 7th and 8th graders over here to teach them about the water treatment facility.



Along 130th Street, Chicago Transit Authority has developed a plan to extend its rail system from 95th to 130th right under the highway underpass. This transit development is called the 130th Red Line Extension Project. The CTA will be required to build its own rail tracks where they are proposing to build at 103rd St, 111th Street and 130th Street, along with other development amenities that the community would want from this development. PCR supports the rail line extension because we only have one bus that comes in our community, and that's the 34 Michigan.

PULLMAN SEWAGE FARM

These apartments here are built on the former site of the Pullman Sewage farm. The farm operated from 1865 to 1920, and then in 1924 too. From 1924 to 1945, there are no documents that can be found from the farm and when it stopped operating. However, these apartments were built in the 70's and there are nearly 300 housing units in this complex.



This area's original name was Eden Green Cooperative Housing where residents who lived in the development for 20 years or more was deeded their units. People whose income level became too high to live in Altgeld moved over here into this cooperative. By the mid 90's, residents lost the cooperative and it went through a redevelopment plan and was renamed Riverside Village. Across the street from Riverside Village also got redeveloped by Pangea Management and on this side and Riverside Village. We are approaching 134th street and that bridge was used as one of the escape routes for the underground railroad too. So this bridge is historical from a standpoint of being one of the several escape routes during slavery.



We're hoping that some redevelopment can happen in this area as far as putting affordable houses right along this way, because it used to be houses. This the Golden Gates. So Golden Gates, after they built Altgeld, I think the Golden Gate came in the late 50s early 60s. We got seven marinas that surround our neighborhood and this is the second one in our community that was used to teach youth about marina life. Because we just left the one that was right here in Maryland Manor.



That's all owned by a family of police officers who just bought that marina. It's a lot of land. If you look at it all, I think it's almost like 300 acres of land.

PROPOSED COMMUNITY SOLAR SITE

Now, this is where we're proposing to put a solar array system right here. Yeah, well Chicago Housing Authority promised to create a solar farm. So they're gonna apply for Solar for All as a public entity.




See, this is Altgeld Gardens. This is Murray Homes, but we just say we're all Altgeld. I used to live in Altgeld. I lived in Murray Homes in this area. Altgeld was built first, and this is the area where I live, there. Structurally Altgeld is built better and I like Altgeld better than Murray, but I got used to it. This is the area that I live here. I live behind this row here, and these are my neighbors. This is Ira F. Aldridge Elementary School.

PROPOSED GROCERY STORE

The Chicago Housing Authority is proposing to put a grocery store, right up in there between the housing units and school. I asked CHA, you're going get rid of all these trees and infringe on the school to put a grocery store in the middle right here? That's another issue we may have to challenge. We need a grocery store though, we need a standalone grocery store and I will show you our commercial strip and you could see where they had just redeveloped and created a standalone library in our community. The closest grocery to us is in the Roseland and the West Pullman areas. That is where some people go to shop and I go south to a suburban area to do my shopping and I go to Indiana to shop too; it's cheaper, because taxes in Chicago and Illinois are ridiculous.



This is Block 1 and across is Block 7. Both areas are close to our new library—it has not opened yet—and daycare center. It's also called the resource center. It's beautiful inside. The daycare center is rocking. I love it. Now they got infant care from six months and up. The closed commercial strip is where the PCR office used to be for 28 years right here. We did not have a back door. We were the smallest storefront there. But now you could see the yellow brick wall that everybody talks about.

YELLOW BRICK WALL

We call it our memorial wall. But if you walk through there, you'll be able to see all the redevelopment that they have done in this area. This is our memorial wall that people are really trying to fight to keep if the renovation ever happened for this facility. They would want to keep this because as you could look at the top.... Pinky Jones, Sterling Pinky Jones was my godbrother. And that happened during the revolution of the Black Power movement where they first started writings on the bricks with black images fighting for justice in this city. And one of the last such writings say:



What bullet killed him?


Nobody knows


Where was he born?


In Altgeld they say


Why did they pick him up?


He was lying in the street


dead


There goes another Black Brother



But the majority of these people at the bottom on the yellow bricks died from some health-related issue—and majority I can say it's cancer and respiratory ailments, cause I know Larry Scruggs died of cancer. A lot of people say it's gang related, people who are up on this wall. No. The majority of people developed health issues and maybe people up at the top during the black revolution with the Black Panther movement was gang related. And many of them, like Russell Williams, I don't think he was killed. This is a memorial wall, and some of the people just come and put their loved one up there like the Johnsons and stuff. They put my father down there, but it's a whole lot of John Johnsons that came through here, and I don't know which one it was. However, this still represents what we call our memorial wall.


This area is called by residents "UpTop" and it is privately owned so that's why they couldn't redevelop. The owner doesn't want to sell the place. I don't know the offer from the Chicago Housing Authority, but it's not enough for him to sell. It is like this grocery store could be broken down to maybe four stores. That's how huge it is. That's the largest building here. Next here, you could break that down to two. Our office was the smallest space we had here. We became used to the hole in the exterior ceiling. When we opened in the morning birds would fly out the hole or a squirrel would jump out and run.



My mother died in 2011, and we moved from here that same year. She died in January, we moved in February of 2011. All this area was contaminated with PCBs. They had to clean up even across the street to that school right there. We watched the cleanup of this area and we trained a lot of residents to be able to go over there and help clean up the site. I always told them that if you dump all the PCBs in that area and it's been there over 30 years and CHA tried to clean it up three times and failed. It failed because CHA did not assess the area until there was no detection of PCBs and this left a big question: is the area clear, free from detection of this poison.



This is the first time I've been back here since it opened this up. Even though this store look like an eyesore, eventually something is going have to give with the store. See, the difference is if CHA acquires this property, it's historical so the HUD 106 process kicks in and if CHA would want to demolish and rebuild it would require permission from HUD and the Illinois Preservation Office. But the state believes that this store is so significant, they want to see it renovated. But by it being privately owned—and it wasn't supposed to be privately owned. We, as residents used to rent these facilities and when it got sold, he was given a 90 year lease. I think it's in the 68th year. So we still got lots of more years to deal with it. This owner can tear down and rebuild on this land. But our current alderman is not going to give him a construction permit. So, he's caught in a limbo. We first originally leased it from our storefront unit from a man who owned several grocery stores throughout the southside and it was called Horizon Food. We rented from him, and then he sold the store and that's how he became owner of it and he had plans to redevelop. But he could not get the construction permits that he needed from the city because the alderman didn't approve his plans. We don't know what's going to happen now and I just found out maybe about two months ago that the lawyer that represents him grew up in Altgeld.


This store brings back lots of good memories for me dating back when my mom let me come to the store to purchase my first pair of shoes. I brought my first pair of high heel shoes and I was so happy! When I got home and showed my mother, she whooped me and said, you are going to take those damn shoes back! You aint grown to wear those high heels and I cried all the way back to return those shoes. I will never forget that!

The keys to our success? Well, it's the collaboration that we have with all the neighborhoods in this area, and we band together. In the past, we used to fight the development or the violations—mainly because many of these industries in the city or the state, were just allowed to continue to operate with a lot of violations. Just like what they are experiencing over there in the Little Village area with Hilco: they had an implosion, but you're still going to give them a permit to operate? General Iron had an explosion! You still letting them transfer? So, it is those types of things that really piss us off as a community and we come together and fight them. We fight them on enforcement. But it's just not enough of us fighting, you know what I mean? If we all come together, we can change this! The pollution just don't stay in our neighborhoods, it goes everywhere!
Selected Media References
Life in the Doughnut, Cheryl Johnson interview, 201
Hazel Johnson Obituary, Chicago Tribune
Ramirez, Margaret. Hazel M. Johnson obituary, "South Side Activist Known as Mother of Environmental Justice Movement." Chicago Tribune, January 16, 2011
Hazel and Cheryl Johnson decide to stay 2010
Far South Side environmental activist Hazel Johnson and her daughter 'decided to stay here and fight'
City Repeatedly Breaks Promises To South Siders When Approving Polluters And Demolitions
Ton Farm Underground Railroad
Ton Farm achieves national designation as significant Underground Railroad site
Slowik: Local historic link in Underground Railroad added to national registry
Obama at Altgeld
Altgeld Gardens: Obama's Legacy And Looking To The Future
"The Old Obama" Riverdale
Fellow activists say Obama's memoir has too many I's
At the housing project where Obama began his career, residents are filled with pride — and frustration
New proposed expanded dump
Lakefront Dump Site Set For Decades-Long Expansion, Despite Pleas From Southeast Siders Already 'Overwhelmed With Pollution'
Poisonous Homes Shriver Center Report
Public housing residents kept in dark about toxic sites, report says
PRC Land and Lakes Landfill
Residents trash Dolton landfill plan
Lake Calumet Cluster EPA Report
IL EPA - INVESTIGATING THE CLUSTER SITES OF SOUTHEAST CHICAGO - EXECUTIVE SUMMARY
Southeast Side contaminated sediment
Lakefront Dump Site Set For Decades-Long Expansion, Despite Pleas From Southeast Siders Already 'Overwhelmed With Pollution'
Sherwin-Williams plant cleanup
POLLUTION DEAL COSTS 2 FIRMS $7 MILLION
Gutted EPA and Altgeld Gardens
What a Gutted EPA Could Mean for Chicago's "Toxic Doughnut"
"The two-story brick housing complex is surrounded by the largest concentration of hazardous waste sites in the country."
S.H. Bell Company manganese contamination
Chicagoans Battle Manganese Dust Pollution
SH Bell Chicago Facility | EPA in Illinois | US EPA
Acme Coke Plant
Toxic Southeast Side site should be turned into park, group says
Site Profile - Acme Chicago Coke Site
ACME Coke Plant, Chicago, IL
IL Digital Archives Calumet Heritage Partnership - Acme Coke Plant
Schroud Steel Dumping Ground
EPA Adds Abandoned Chicago Dumping Ground to Superfund Cleanup List
Paxton Lagoons
Inspectors shut down Paxton Lagoons incinerator | Uncategorized
Paxton Lagoons to receive PCB permit today
Waste Management SCA Chemical Services Inc, PCB incinerator
ILLINOIS EPA WANTS TO SHUT SOUTHEAST SIDE INCINERATOR
SOUTH SIDE FACILITY BURNING `SUPERWASTE`
ILLINOIS FIRM SEEKS TO RESTART HAZARDOUS-WASTE INCINERATOR
City of Chicago's 3 municipal incinerators
In the Humble Ashes Of a Lone Incinerator, The Makings of Law (Published 1994)
Sherwin-Williams/PMC Specialties Group
Lawsuit seeks action against PMC Specialties for regional
Additional Resources:
Bowly, Devereux, Jr. The Poorhouse: Subsidized Housing in Chicago, 1895-1976. Southern Illinois University Press, 2012.
Bullard, Robert D., ed. Confronting Environmental Racism: Voices from the Grassroots. Boston: South End Press, 1993.
Cole, Luke W., and Sheila R. Foster. From the Ground Up: Environmental Racism and the Rise of the Environmental Justice Movement. New York: New York University Press, 2001.
Coursey, Don, et al. Environmental Racism in the City of Chicago: The History of EPA Hazardous Waste Sites in African-American Neighborhoods. The Irving R. Harris Graduate School of Public Policy Studies, University of Chicago, 1994.
Hofrichter, Richard, ed. Toxic Struggles: The Theory and Practice of Environmental Justice. Philadelphia: New Society Publishers, 1993.
Pellow, David Naguib. Garbage Wars: The Struggle for Environmental Justice in Chicago. Urban and Industrial Environments series. Cambridge: MIT Press, 2004.
.
Washington, Sylvia Hood. Packing Them In: Archaeology of Environmental Racism in Chicago. Lanham MD: Lexington Books, 2005
.